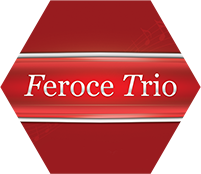 Feroce Trio - music band
New layout of Feroce Trio website.
Feroce Trio
The Feroce Trio has been created by young musicians who met in Paderewski Academy of Music in Poznań, Poland.
They decided to unite their experience and passion to chamber music. The trio consists of:
Paweł Kroczek – clarinet, Zofia Elwart – cello, Hanna Tarchała – piano.
The Feroce Trio was formed in 2011 and since then has worked under such prominent musicians as
Zdzisław Nowak, Andrzej Tatarski and Marcin Sikorski.
The trio is just beginning its career. They performs concerts in Poland and abroad gaining admiration and recognition from the audience. Their repertoire is
very various, from baroque to the modern music. They perform also film music. The Feroce Trio's aim is to promote Polish modern music.
Paweł Kroczek, Natalia Makuch and Hanna Tarchała are also active soloists, chamber musicians and orchestra members.